Mover Erase Combo: How-To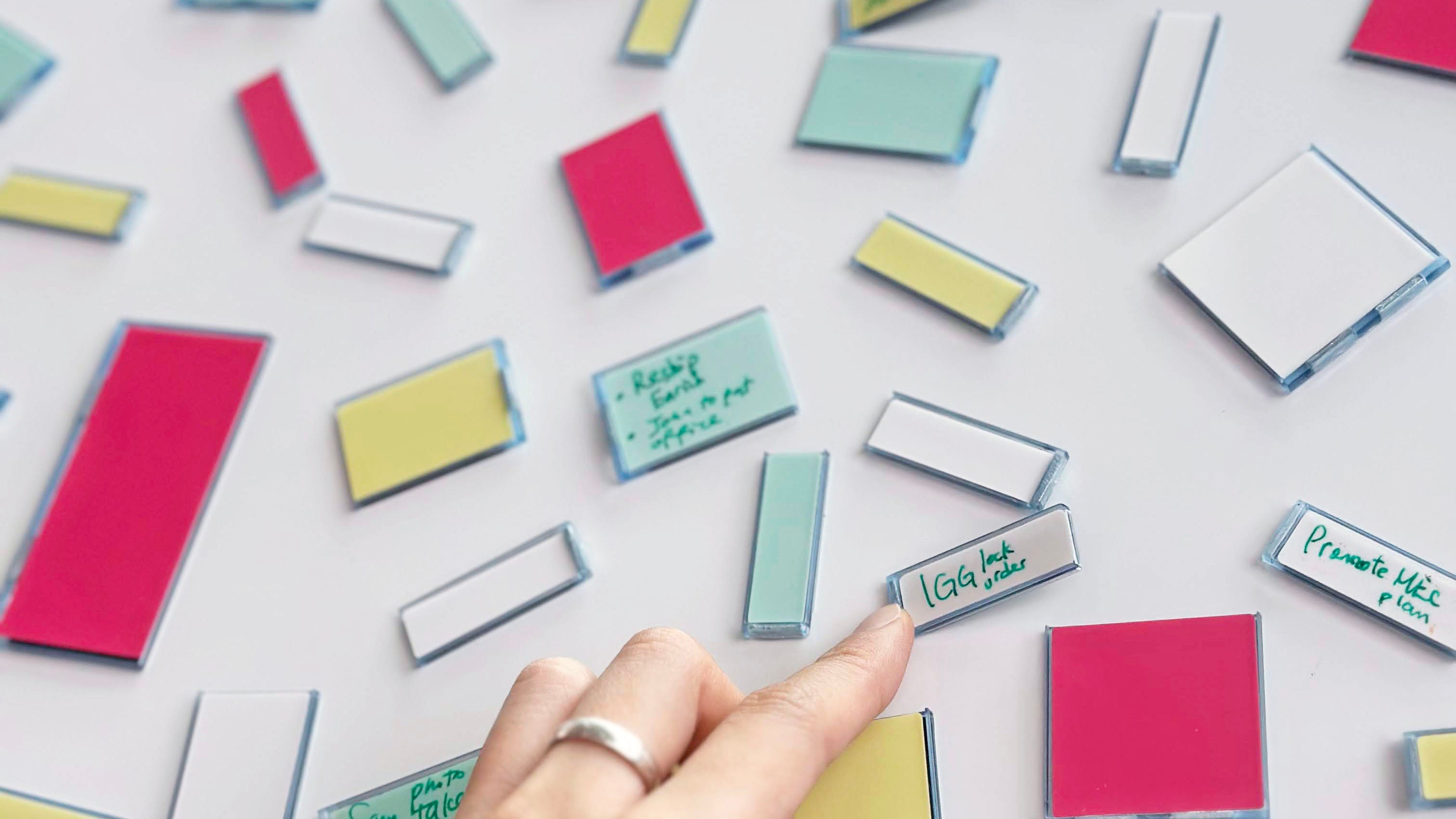 What exactly is it?
Mover: movable note-taking whiteboard
Erase: erasable surface
Combo: varied in size for daily ideas tracking 
Mover Erase Combo is a tactile thinking tool designed for interaction between your brain and your body, for bringing ideas into actions.
Pocket-sized whiteboards make writing things down easier, while its movable feature allows you to move them around to organize your thoughts and plans in the notebook-style organizers, Mover Book and Mover Pad.
Killed a task? Just wipe it off and reuse the whiteboard. Not a single paper was wasted and that satisfaction of getting things done is real!
The Press and Standup design makes it easy to grasp and remove when the whiteboards are stuck closely to each other while they remain adhesive with the built-in magnet.
Who is it for?
Almost everyone would benefit from using Mover Erase Combo in their daily life. This is not just a claim, this is a fact  proven by our backers on Kickstarters over the years.
Whether you are a working mom or dad, a college student or a teacher, a business owner or an office worker, you will get to experience positive changes in your time management ability.
Where to use it?
With the patented built-in magnets, you can stick Mover Erase Combo on any metallic surfaces such as fridges, and certain desktops. Beyond organizers, Mover Book  or Mover Pad, we recommend making it part of your work desk. Snap movers on the edge of your laptop screen just like the way you use sticky notes. They won't fall or curl up! For non-metallic laptop screens, MagDisc works to hold Mover Pad on the side so you would see all your ideas at-a-glance.
Why do you need it? 
Who doesn't want to be an organized person? It's not easy, especially when you're used to living with the mess. Still, Mover Erase Combo is a system that you can practice and getting better at, just like a new hobby. Feedback from our community suggested that users are getting better at tackling their to-dos, producing more creative ideas. Most importantly, they have got more courage in confronting their responsibilities. Each task is your responsibility. It makes sense to feel overwhelmed by the amount of tasks because the more responsibilities we have, the more stress we are to bear. It feels even more frustrating when you couldn't even motivate yourself to complete one of those big tasks (because you don't want to fail). Mover Erase Combo is just that thinking tool you need, to break huge responsibility into smaller, achievable tasks. It encourages you to focus on one thing at a time. Kill a small task before dreading the next! This is how you should be managing your time, and your life.
An even bigger philosophy underlies the creation of Mover Erase Combo, is that we would want you to see the 'big-picture' amid focusing on one task at a time. By laying all your ideas out in front of you (on the screen of your desktop, on the fridge, in your organizer, etc.) your ideas are all within a glance, you might then connect, combine, and ultimately reconstruct some ideas that you never thought could be helpful to you. This is how your mind works all along, you just don't see it. Now that you have a tool to visualize everything you are thinking, all that you have to do is play around and see what happens to your life!
---